Painting at the Camp Hill Plein Air Painting event in June 2012.
October 2016 - Artisans Gallery
Jonathan's oil paintings of the Susquehanna River
are featured at Artisans Gallery at 114 N Prince St.
in downtown Lancaster. Drop by during the
Annual Art Walk on October 8th and 9th.
October 2016 - State Museum of Pennsylvania
Jonathan and the Seven Lively Artists are featured
in an exhibition at the State Museum in downtown Harrisburg.
Join us for opening night on Friday October 21, or
drop by later, as the show is up through late February of 2017.
November 2016 - Radisson Hotel and Convention Center

Jonathan's mural in Bridges Lounge is complete.
Stay tuned for a "meet the artist" night in November.
November 2016 - Gallery 30, Gettysburg.
Jonathan is featured at Gallery 30 on Hanover Street.
Opening on the First Friday of November.
INSTRUCTION - Jonathan teaches basic painting courses in oil at
the Art Association of Harrisburg on Monday evenings,
and at the Friendship Community Center
in Lower Paxton on Tuesday evenings.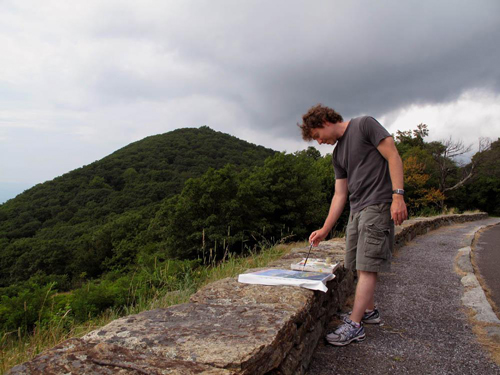 Jonathan paints on Skyline Drive in July 2009.
Photo courtesy of Lynda Ward.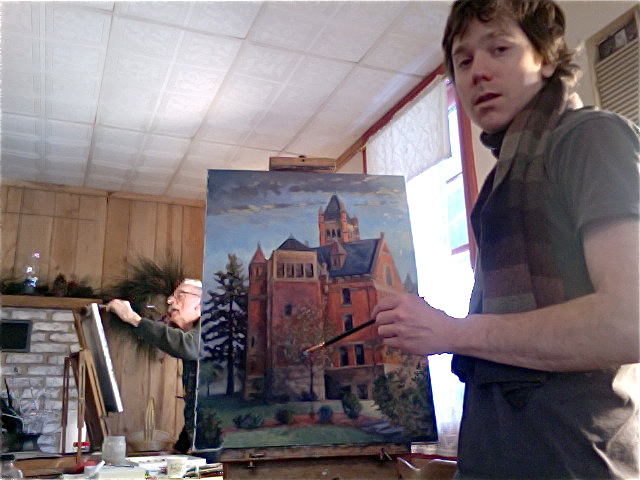 Painting with the Seven Lively Artists at the January 2011
retreat at the Warm Springs Lodge.