JONATHAN FRAZIER
Painter of landscapes, performer of soundscapes
Featured in upcoming art show with Paul Gallo at Lebanon Picture Frame
and Fine Art Gallery. Join us for the First Friday opening on December 1rst, 5-8pm.
Show remains up thru late January.
Currently showing with the 7 Lively Artists
Polleck Performing Arts Center in Camp Hill.
Featured in group exhibition at the Whitaker Center.
"Susquehanna Sonata" currently on view thru late January.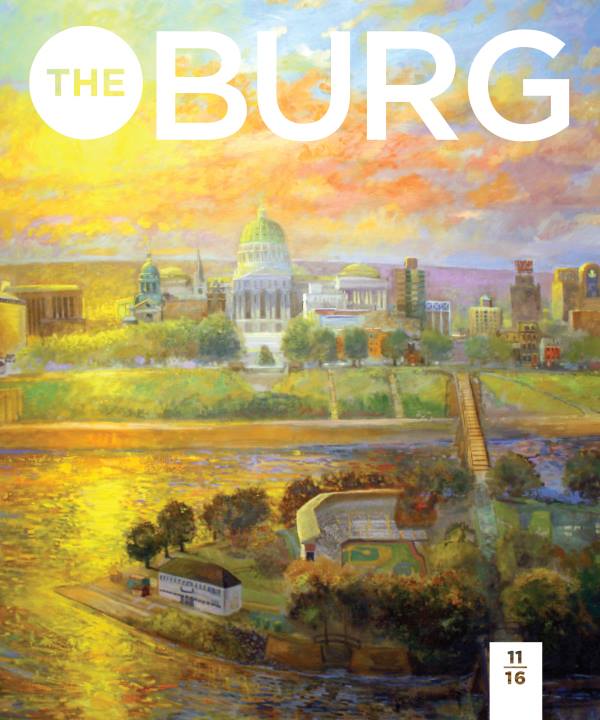 The cover of the November 2016 edition of "the 'Burg" featured a
portion of "Sunrise", a commissioned wall mural at the Harrisburg Radisson.
Jonathan participated in Sprocket Muralworks Mural Festival last September,
completing a mural on the southward facing wall of the Comfort Inn
in Shipoke, adjacent to the playground at Race and Conoy Streets.
"Even while painting, my sensibilities as a performing musician come into play... "
Paintings
Drawings
Artist Resume
Artist Biography
Upcoming Art Events
Galleries / Contact / Links
Past Musical Performance
Upcoming Musical Perfor
mances
Other points of interest
"Gettysburg Paintings"
"The Seven Lively Artists"
"Harrisburg Paintings"
"Drawings of Dillsburg"
"Philadelphia Paintings"
"Cape Cod Paintings"
Site updated 2 December 2017
New musical dates added.