JONATHAN FRAZIER
Painter of landscapes, performer of soundcapes
Currently featured in the 7 Lively Artists exhibition at
the Pennsylvania State Museum in downtown Harrisburg.
"Fall Color - Skyline Drive" has been selected for the upcoming
"Cumberland Valley Artists Competition" which will be on display at
the Washington County Museum of Fine Art in Hagerstown MD in January 2017.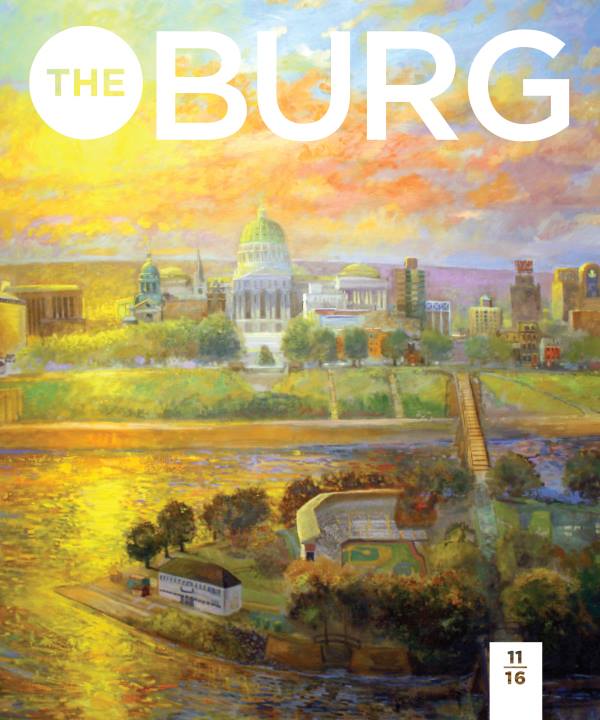 The cover of the recent November edition of "the 'Burg" features a
portion of "Sunrise", the recently completed wall mural at the Harrisburg Radisson.
Jonathan's work is also featured in the current Seven Lively Artist Exhibit
at the State Museum of Pennsylvania thru February 12, 2017.
"Even while painting, my sensibilities as a performing musician come into play...
I find my voice in vibrant colors. I look for rhythm in architecture. I approach the act of
painting as a performance, conveying as much mood and energy as the materials allow....."
Paintings
Drawings
Artist Resume
Artist Biography
Upcoming Art Events
Galleries / Contact / Links
Past Musical Performance
Upcoming Musical Perfor
mances
Other points of interest on this site
"Gettysburg Paintings"
"The Seven Lively Artists"
"Harrisburg Paintings"
"Drawings of Dillsburg"
"Philadelphia Paintings"
"Cape Cod Paintings"
Site updated 1 January 2017
New shows added to "Upcoming Performances".